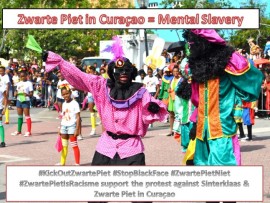 Curaçao, 4 November 19
                                                                                                                     
Dear Subway, Kentucky Fried Chicken, Pizzahut, Ennia, Malta, Stichting Johannes Bosco, Renaissance hotel, Magusa, Curoil, Fria, Selikor, WTC, Lions Club Curaçao, Chippie, Korpodeko, St. Barbara Resort, Maduro & Curiel's Bank and all other sponsors,
We are a social justice action group on Curaçao and we have noticed that the past year(s), your company has sponsored a children's holiday with a dehumanizing and racist character called Black Pete. We were shocked and disappointed by this. We ask you to stop sponsoring this holiday as it is now.
In 2014, the Netherlands Institute for Human Rights ruled that "there are discriminatory aspects to Zwarte Piet". Children's ombudsman Margrite Kalverboer has decided conclusively after conversations with children that "the figure of Zwarte Piet can contribute to bullying, exclusion or discrimination and is therefore contrary to the Convention on the Rights of the Child". In 2015 the UN urged the Netherlands to stop celebrating this character "that reflects negative stereotypes of people of African descent and is experienced by many people of African descent as a vestige of slavery."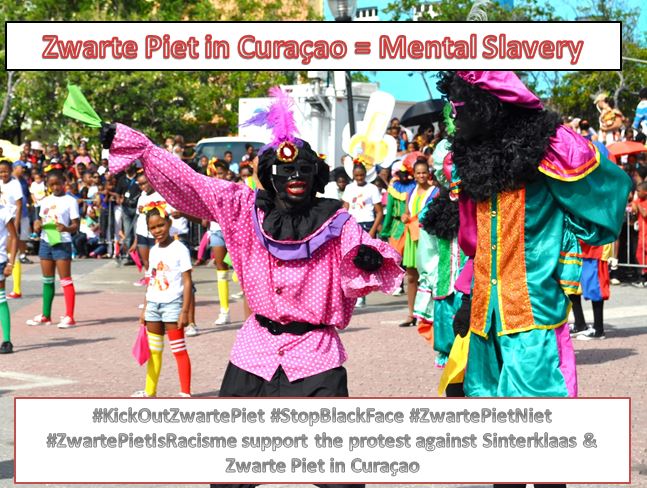 Taking into account the statements of these three important authorities and the changing society, it seems obvious to us that Black Pete is no longer acceptable in this era and this multicultural society. The Netherlands is now slowly shifting to a more inclusive holiday and the government of Curaçao stopped financing this holiday as well. But with your sponsoring Fundashon di Muchanan (the organizer of the festivities) is able to continue with the holiday including the racist stereotype. The organizer Solange Trinidad has said in a recent interview, that she doesn't care what the Netherlands does with the color of the racist character. She will not change it.
Curaçao is part of the Dutch Kingdom but the organizers of the national festivity, the one you sponsor, refuse to change the appearance of the offensive and derogatory character. They do not care about the report of the UN, the children's ombudsman, the feelings of the people and the parents and children that don't enjoy this holiday because of its racist elements. People are hurt and bullied by this festivity. It's a national holiday; therefore it should be a party for everyone. We do not wish the festivities to end; we simply want to broaden it to include all children. So everyone can celebrate this national holiday and have the opportunity to actually enjoy it.
This year we will demonstrate again against the racist character and we're also focusing on the sponsors. In lieu of your inclusive values, we were hoping that you wouldn't want your money (and the company's name) associated with the continuation of this dehumanizing character of people of African descent. Perhaps this controversial and outdated character has come to your attention prior to this message and you have already decided to stop sponsoring the holiday. If so, please let us know. We only want to address the companies that are current sponsors.
We hope to hear from you.
Sunny greetings from Curaçao!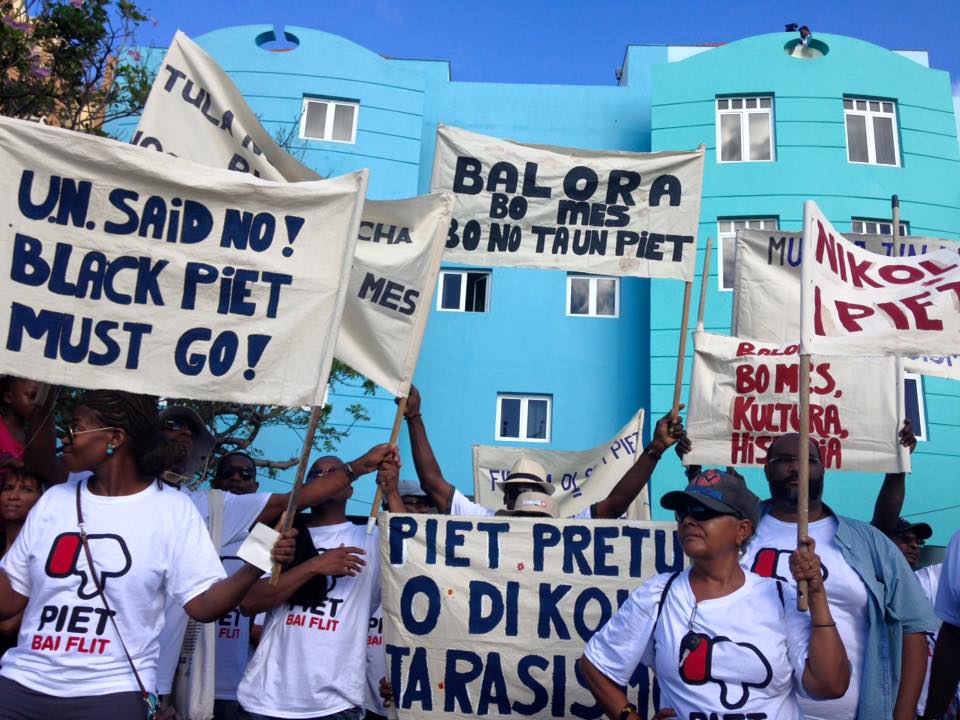 In 2015 there was already a protest against zwarte piet in Willemstad, read more about it here.