Call for International solidarity in the fight against Black Pete and racism
A Dutch children's holiday, institutional racism and the liberation of Black people are related to each other through 'Black Pete', a figure in one of the most important Dutch traditional holidays called 'Sinterklaas'. Over the last couple of years protest against the controversial tradition has reached a boiling point. We call upon the international community in our effort to abolish this racist practice.
Black Pete, a racist tradition
In contrast to Saint Nicolas celebrations in Germany and other European countries, the saint is accompanied by the mythic figure Black Pete. Black Pete is mostly played by white people in blackface with big red lips and a wig of frizzy black hair. From November 14th to December 5th the figure dominates the public sphere, shops sell the same caricatured candies, dolls and more, children are confronted with it on schools and it's all over the TV. Black Petes play their role as the subservient, unintelligent, childish and clownish caricature helping the old, wise and kind white Saint to carry out the work. The UN CERD stated in its country report on the Netherlands:
"While the Committee understands that the tradition of Sinterklaas and Black Pete is enjoyed by many persons in Dutch society, the Committee notes with concern that the character of Black Pete is sometimes portrayed in a manner that reflects negative stereotypes of people of African descent and is experienced by many people of African descent as a vestige of slavery, which is injurious to the dignity and self-esteem of children and adults of African descent."[1]
Blackfacing dehumanizes black people
Caricatures of Black people like Black Pete were popularized through minstrel shows in the US and Europe, in which white people dressed up in blackface to entertain white audiences through stereotypes of Black people[2]. In the UK, Golliwog, an old black doll, became a popular image; in Germany blackface traditions arose in the theaters for white entertainment. Even in present day society white people continue to dress up in blackface during Halloween and frat parties as occurred during a recent incident at the UCLA.[3] [4] These blackfacing traditions reinforce notions of Black inferiority, inhumanity and white supremacy. In an article Dr. Leonard wrote:  "Blackface is part of a history of dehumanization, of denied citizenship, and of efforts to excuse and justify state violence. From lynchings to mass incarceration, whites have utilized blackface (and the resulting dehumanization) as part of its moral and legal justification for violence."[5]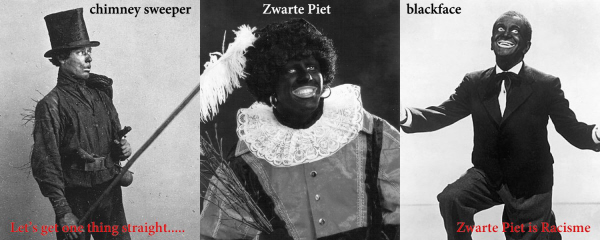 #BlackLivesMatter
The tragic deaths of Michael Brown, Freddy Gray, Sandra Bland and countless other victims of police violence are clear examples of the continuing legalized violence affecting black lives. The ongoing dehumanization of black lives has sparked a 21st movement challenging the status quo amongst young black men and women under the hashtag #BlackLivesMatter. Although Europe brings a different place and context, there are many similarities in the legacy of the histories of slavery, white supremacy and dehumanization of black lives. In fact, it where European nations who invented and instigated the Trans-Atlantic slave trade, developed ideologies, social, economic and political structures which changed the course of history. The general perception, however, is that racism is something of the past in most European countries. This is a dominant view which for a long time has hidden and continues to erase the reality and experience of the more than 7 million Europeans of African descent and black Europeans.
The #BlackLivesMatter movement which started in the US resonated worldwide including in different European countries where many black people and other minorities face similar challenges. They organized protests and actions in solidarity with the people in the US. Racial profiling, structurally high unemployment rates related to labor market discrimination, Eurocentrism in education and more issues related to the legacy of slavery and racist ideologies. Just like the murder of Freddie Gray in Baltimore and Mike Brown in Ferguson, the death caused by police violence Mitch Henriquez in the Hague caused massive outrage and protest amongst black and minority youth.[6] Last year more than 90 peaceful protestors were arrested during a protest against the racist Black Pete tradition in Gouda. To challenge the dominant structures of white supremacy and stop the dehumanizing blackfacing traditions young black men and women are standing up to demand an end of the racist tradition.
International Solidarity
The fight against racism, discrimination and exclusion in the Netherlands is not one to be fought by the black community in the Netherlands alone. Martin Luther King once said: "injustice anywhere is a threat to justice everywhere". Now is the time for us to form a unity in the struggle against institutional racism, in all its systematic and symbolic forms, and against all ways in which it prevents us from becoming full citizens in our respective countries.
On Saturday November 14th the national Sinterklaasparade will take place introducing a period of 3 weeks in which the racist caricature will be promoted and celebrated in public and private spaces across the country such as schools, shops, streets and on television.  Action group Kick Out Zwarte Piet (KOZP) will organize a large demonstration at the national Saint Nicolas parade in Meppel on Saturday November 14th called "Freedom Ride to Meppel" to demand an end to this racistpractice. We therefore turn to you to support us by making a statement of solidarity in our fight against the racist caricature Black Pete which is a symbol of rampant racism in Dutch society.
We recommend the following actions:
·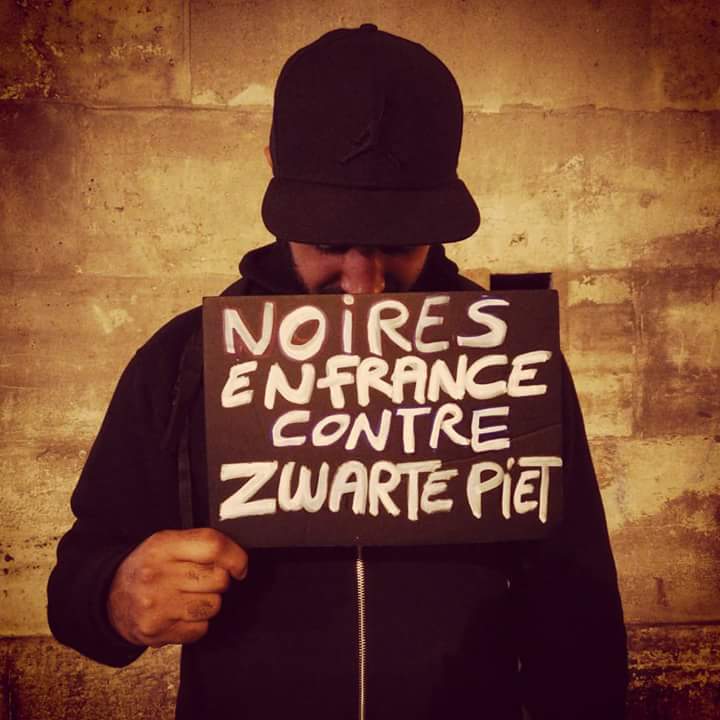 Write and share a statement of solidarity (can be a blog for StopBlackface.com)
·        Repost & retweet live messages from FB/Twitter: @zwartepietniet; @StopBlackface, especially during the Freedom Ride to Meppel protest against Zwarte Piet with the hashtags #KickOutZwartePiet #StopBlackface and #FreedomRideToMeppel.
·        Make a selfie holding a piece of paper or banner reading: Zwarte Piet is Racisme or Black Pete is Racism (or in your own language). You can do this alone or in a group.
·        Make a selfie with an anti-Black Pete T shirt or hoody and post it on social media. Mobilize others to do the same.
Please don't forget to send us links and pictures of your effort so we can share your solidarity with our communities across Europe. Feel free to forward this call within your network.
For more information contact Mitchell Esajas or Jessy de Abreu via: info@nucnet.nl
StopBlackface: http://stopblackface.com/ // FB: StopBlackface // @StopBlackface1
Check out the action from our partners in Germany leading to the abolishment of Black Pete in Potsdam
Background information:
Zwarte Piet is Racisme Campagne: // FB: Zwarte Piet is Racisme
Zwarte Piet Niet // FB: Zwarte Piet Niet //@zwartepietniet
Arrests in Dordrecht in 2011: https://www.youtube.com/watch?v=FjcFefsW-d0
Arrests of 90 protesters in Gouda in 2015: https://www.youtube.com/watch?v=4TGvi3y9cIg
Documentary "Our Colonial Hangover":  http://www.vpro.nl/speel.WO_VPRO_728933.html
[1] https://www.rt.com/news/313757-black-pete-un-netherlands/
[2] Brienen in Dutch Racism, Philomena Essed & Isabel Hoving,  2014: 18
[3] http://www.theatlantic.com/entertainment/archive/2015/10/blackface-halloween-a-toxic-cultural-tradition/413323/
[4] http://stopblackface.com/blackbruinsmatter-blackfacing-needs-to-stop-on-campus-and-as-a-dutch-national-tradition/
[5] http://www.huffingtonpost.com/dr-david-j-leonard/just-say-no-to-blackface-_b_1752139.html
[6] http://www.huffingtonpost.com/2015/07/02/netherlands-riots-police-mitch-henriquez_n_7712962.html