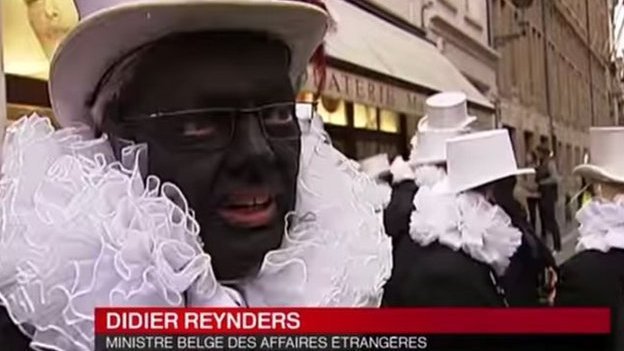 On Saturday March 14th, Minister of Foreign Affairs, Didier Reynders, paraded through Brussels as a 'Noiraud': blackfaced, dressed in a 19th century nobleman's suit, he and his comrades roamed the streets and restaurants of our capital to raise money for children in need.
Undoubtedly well-meant and a yearly Brussels' philanthropic tradition since 1876, this event nevertheless symbolises the racist paternalism that cuts through our society and the aid business in particular.
Similar to Zwarte Piet [Black Pete], it painfully demonstrates how racism is only understood as something based on bad intentions, how it magically disappears as soon as 'our' traditions are involved, and how it is the exclusive competence of our white establishment to detected or define it.
The days that events like these, as well as the deep-seated racism in our society, are silently accepted or shrugged off, are over.
One's intentions are of little importance when it comes to racism. The devastating consequences, embodied by the colour of poverty in Belgium and the world, and the collectively condoned discrimination of our minorities in education, on the job- and housing market, make it a civic duty to unfailingly and systematically denounce it.
"In other civilized countries his political career wouldn't survive this, but in Belgium he just continues," Flemish-Nigerian author Chika Unigwe told the American news channel NBC.
We strongly share the international consternation with regards to this incident.
Noiraud Didier Reynders lacks the necessary competences to internationally represent his own people – in all its diversity – with dignity. He has proven to be unable to embody the universal ideal of fundamental equality in these post-colonial times. He lacks the necessary skills – given his apparent inability to distinguish between what is racist or not – to act as a credible partner on the international scene, especially in the Global South.
We therefore demand that Didier Reynders steps down as our minister of Foreign Affairs, on grounds of undeniable incompetence.
His resignation would show political courage and leadership in the collective struggle against racism and discrimination. A struggle that can no longer be postponed.
///
In Dutch:
NL: Afgelopen zaterdag paradeerde minister van Buitenlandse Zaken Didier Reynders (MR) door de straten van Brussel als Noiraud: met zwartgeschilderd gelaat, uitgedost in een 19e eeuwse edelmanspak schuimden hij en zijn kompanen de straten en restaurants van onze hoofdstad af om geld in te zamelen voor achtergestelde kinderen.
Dit allicht goedbedoeld initiatief, een jaarlijkse Brusselse filantropische traditie sinds 1876, staat symbool voor het racistisch paternalisme dat onze samenleving en onze hulpsector in het bijzonder, dooradert. Net zoals met Zwarte Piet, legt het pijnlijk bloot hoe racisme enkel gezien wordt als iets dat gestoeld is op slechte intenties, dat bij wonder verdwijnt van zo gauw het over 'onze' tradities gaat en schijnbaar enkel mag gedefinieerd worden door de gevestigde blanke waarden.
De tijd dat dit en het racisme dat diep verankerd zit in onze samenleving, stilzwijgend of schouderophalend aanvaard wordt, is voorbij.
Intenties doen in deze niet ter zake. Het zijn de gevolgen, vervat in de gekleurde armoedecijfers in Belgie en wereldwijd, alsook de algemeen aanvaarde discriminatie van onze minderheden op de arbeids-, woon- en onderwijsmarkt, die het een burgerplicht maken om racisme systematisch aan te klagen.
'In andere geciviliseerde landen zou zijn politieke carriere dit niet overleven, in Belgie kan hij gewoon aanblijven', zei Vlaams-Nigeriaanse schrijfster Chika Unigwe aan de Amerikaanse nieuwszender NBC.
Wij sluiten ons ten stelligste aan bij de internationale verontwaardiging rond dit incident.
Noiraud Didier Reynders is onbekwaam om zijn eigen bevolking – in al haar diversiteit – waardig en geloofwaardig te vertegenwoordigen in het buitenland. Onbekwaam om het universeel ideaal van fundamentele gelijkheid te belichamen in deze post-koloniale tijden. Onbekwaam om – gezien het gebrek aan inzicht over wat al dan niet racistisch is – als geloofwaardige partner op te treden op het internationaal toneel, en in het Zuiden in het bijzonder.
Bij deze vragen we Didier Reynders af te treden als onze minister van Buitenlandse Zaken op grond van onmiskenbare onbekwaamheid.
Zijn aftreden zou getuigen van politieke moed en leiderschap in de collectieve strijd tegen racisme en discriminatie die we niet langer kunnen uitstellen.
Dyab Abou Jahjah, auteur
Gia Abrassart, freelance journalist, Café Congo & Warrior Poets
Orhan Agirdag, Universiteit van Amsterdam
Yasmina Akhandaf, BOEH
Meryem Al Marchohi,
Hasna Ankal, journalist & columnist
Ikram Aoulad L'Ahcen, theatermaakster SINCOLLECTIEF
Karel Arnaut, KU Leuven
Wouter Arrazola de Onate, Movement X
Rachida Aziz, modeontwerpster
Omar Ba, European Network People Of African Descent
Joachim Ben Yakoub, voorzitter Kif Kif
Kristof Bilsen, filmmaker
Willem Blontrock, leerkracht
Anissa Boujdaini, studente
Maud Anne Bracke, University of Glasgow
Sarah Bracke, Harvard University – VUB – UGent
Anne-Laure Buisson
Fallon Bwatu, Together for Dignity
Ted Bwatu, consultant
Yassine Channouf, vertaler
Mathieu Charles, Belgian Renaissance
Ernestine Comvalius, Bijlmer Parktheatre
Sara Cosemans, leerkracht geschiedenis Lucerna College Houthalen
Lies Craeynest, Pietenplan Vlaanderen
Valerie De Craene, KU Leuven
Matthias De Groof, Universiteit Antwerpen
Sarah De Mul, Open Universiteit Nederland
Thomas Decreus, KU Leuven
Olga Dengo, kunstschilder
Fikry El Azzouzi, auteur
Latifa El Morabit
Nadia Fadil, KU Leuven
Chandra Frank, Goldsmiths College, University of London
Quinsy Gario, Zwarte Piet Is Racisme / Roet In Het Eten
Melat Gebeyaw Nigussie, Belgian Renaissance
Jan Goossens, artistiek directeur KVS
Luk Groffy, Movement X
Ilse Hackethal, directeur Samenlevingsopbouw Antwerpen stad
Karim Hassoun, logistics supervisor
Thomas Hendriks, KU Leuven
Dalilla Hermans, jeugdwerker/jeugddienstondersteuner
G. Holwerda, artist, InterNational Anti-Racism Group
Nancy Jouwe, Kosmopolis Utrecht
Sibo Kanobana, UGent
Dimokritos Kavadias, VUB
Tariq Khan, Jah Mission
Youssef Kobo, activist/opiniemaker
Bouchra Lechkar, arts
Shari Legbedje,
Bleri Lleshi, filosoof
Maarten Loopmans, KU Leuven
Nore Maatala, producer/scenarist Sophimages/Enheduanna
Filip Marrécau,
Latifa Matheeussen, consultant, politicologe
Bruno Meeus, KU Leuven
Assia Missaoui,
Patrick N'Siala Kiese, algemene secretaris, Platform van de Afrikaanse Gemeenschappen (PAG)
Nadia Nsayi, Bana Leuven
Stijn Oosterlynck, Universiteit Antwerpen
Seckou Ouologuem, decolonize Belgium
Rina Rabau, Bana Leuven
Mouhad Reghif, informaticus, Bruxelles Panthères
Sascha Reunes, docent, podiumkunstenaar
Kristin Rogghe, GEN2020
Olivia Rutazibwa, University of Portsmouth
Ali Salhi, gemeenteraadslid Sint-Niklaas
Sarah Scheepers, Ella vzw
Hans Schippers, Movement X
Patricia Schor, Universiteit Utrecht
Saskia Steenmeijer,
Caroline Suransky, Universiteit voor Humanistiek Utrecht
Faye Tapha,
Angela Tillieu Olodo, KVS
Anya Topolski, KU Leuven, EAJS (EenAndereJoodseStem)
Heleen Touquet, KU Leuven
Daria Tunca, Université de Liège
Chika Unigwe, auteur
Piet Van Avermaet, directeur Steunpunt Diversiteit & Leren, UGent
Adinda Vanderzande, Belgian Renaissance
Annelies Verbeke, auteur
Kaat Wils, KU Leuven
Dorien Wynants, MOUTH
Sign petition!
Sign the petition @ Change.org
'Noiraud' Didier Reynders: Beleidsonbekwaam
'Noiraud' Didier Reynders: Unfit for Office
'Noiraud' Didier Reynders: Incompétent
Sign the petition!