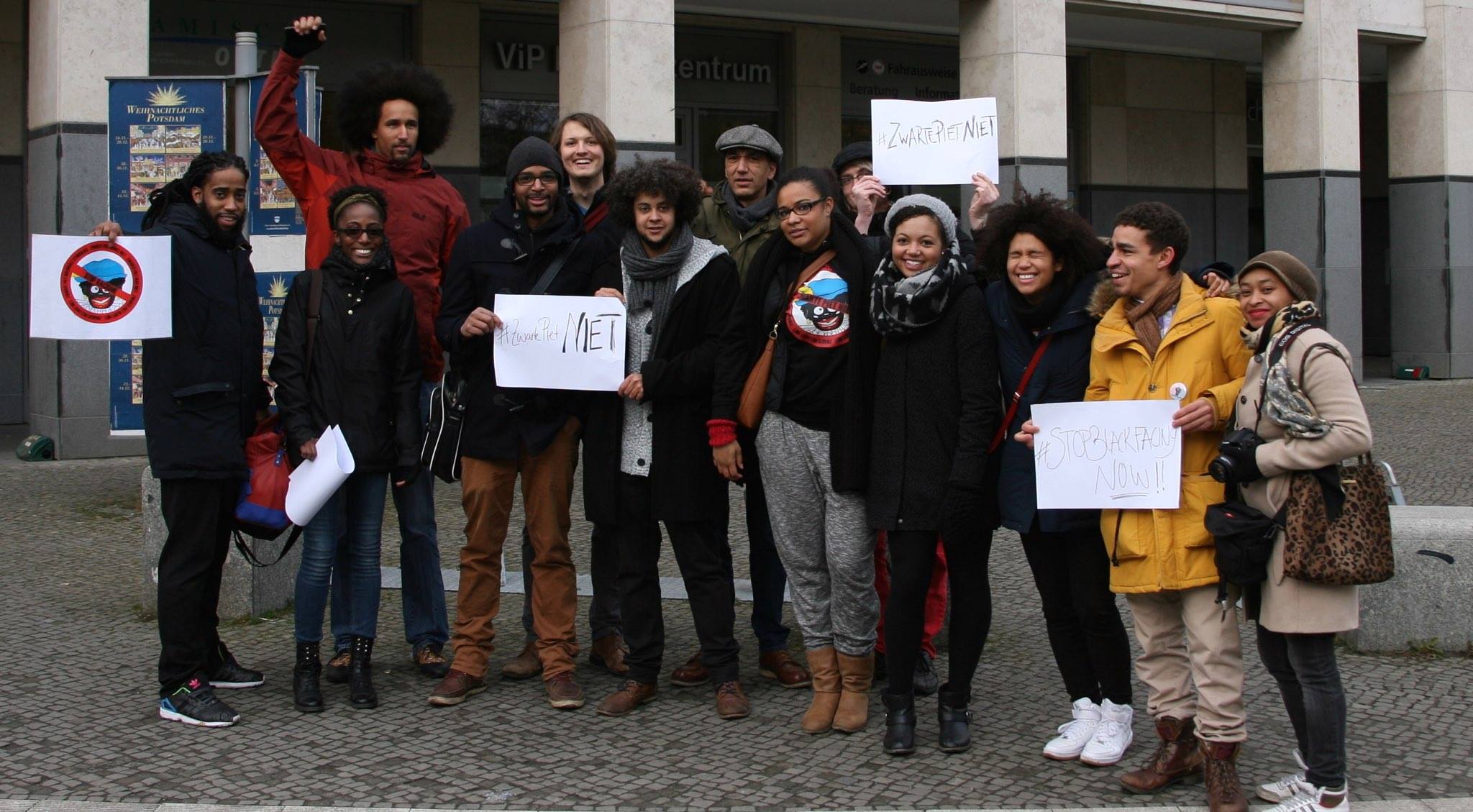 Negotiations with Dutch Embassy laid foundation for a Santa Claus celebration free of racism in Germany
Representatives from Initiative of Black People in Germany (ISD), Zwarte Piet Niet, Kick Out Zwarte Piet and European Network against Racism (ENAR) reasoned about the necessity to disestablish the racist caricature of "Zwarte Piet" in Germany
Representatives of the Dutch Embassy failed to explain why even though they condemn any forms of racism, this year's festivities perpetuated Black stereotypes and racism due to the usage of "Zwarte Piet". Furthermore the Embassy could not guarantee on a racist free Santa Claus celebration for all children. The Embassy's significance as a role model for the entire Dutch expat community was highlighted. Both parties agreed on the following:
The Embassy will communicate the demands to all relevant actors
The Embassy acknowledges the need the Human Right to live a life free of racism
The Embassy pledges to revert back with a concrete proposals of how to implement a Santa Claus celebration by January 31st, 2015
Meanwhile, the city of Potsdam, Brandenburg, will continued to hold a discriminatory parade on Saturday, December 13th, 2014. Unfortunately, the major and the city council failed to remain neutral and could not implement non-discriminatory solutions. We regret this repeated institutional failure to effectively implement, maintain and protect the Human Rights that have been entrenched by ICERD. A group of activists from the Netherlands united in Knockout Zwarte Piet and German activist from the ISD organized an protest at the event.
In German:
 Vertreter_innen der Initiative Schwarze Menschen in Deutschland Bund e.V. (ISD), Zwarte Piet Niet, Kick Out Zwarte Piet und des Europäischen Netzwerks gegen Rassismus (ENAR) erörterten am Freitag, den 12. Dezember 2014 die Notwendigkeit die rassistische Karikatur 'Zwarte Piet' bei Nikolausfeiern in Deutschland abzuschaffen.
Berlin, 13.12.2014:
Beim Treffen am Freitagvormittag konnten Vertreter_innen der niederländischen Botschaft nicht erklären, warum trotz der Verurteilung von jeglicher Form von rassistischem Handeln, die Nikolaus-Feierlichkeiten auch in diesem Jahr mit der rassistischen Karikatur 'Zwarte Piet' statt gefunden haben.
Dennoch war es der Botschaft nach Abschluss der Gespräche nicht möglich, ein rassismusfreies Nikolausfest in 2015 für alle Kinder zu gewährleisten.
In dem Gespräch wurde noch einmal auf die weittragende Vorbildfunktion der Botschaft für die in Deutschland lebenden Niederländer_innen aufmerksam gemacht.
Die Parteien einigten sich auf die folgenden Punkte:
Die Botschaft wird mit relevanten Akteur_innen Rücksprache halten;
Die Botschaft erkennt das Grundrecht auf ein diskriminierungsfreies Leben an;
Die Botschaft sagt zu, bis spätestens 31. Januar 2015 konkrete Schritte vorzuschlagen, wie ein rassismusfreies Kinderfest umgesetzt werden kann.
Derweil wird am Samstag, den 13. Dezember 2014 ein von Steuergeldern finanzierter rassistischer Nikolausumzug in Potsdam, Brandenburg stattfinden. Leider haben Bürgermeister und Stadtverwaltung versäumt, unparteiische und konstruktive Lösungsvorschläge zu verwirklichen.  Wir bedauern, dass dies ein erneutes Versagen von institutioneller Seite ist, das von Deutschland ratifizierte Abkommen zur Eliminierung von Rassendiskriminierung umzusetzen.
Video of RT: https://www.youtube.com/watch?v=5tk9StDAqlk
Kontakt:
Jamie Schearer – jamieschearer@isd-bund.org